Resources and Links
---
Listing of all documents filed with the State regarding the Arizona Marriage Equality Case.
Who we are:
The plaintiff couples here in Arizona are a slice of Americana. We are men and women, parents, foster parents, children of supportive and not so supportive parents, brothers and sisters. We are democrats, independents and republicans. We are your colleagues at work and we work in varied professions. We are not activists. We have all been quietly living our lives as loving couples and families in relative obscurity until we decided we needed to take action to simply "right a wrong". Our case is about granting equal marriage rights to all. We are not seeking financial compensation or damages in this lawsuit, that's just not who we are. PLEASE DONATE
Stonewall Democrats of Arizona


Stonewall Democrats of Arizona is a statewide, Arizona LGBTQI Democratic club. We are registered with and recognized by the State of Arizona as a Political Action Committee (PAC)...the key word being ACTION. As a club SDA is able to do certain things, become involved in certain ways. As a PAC, SDA is able to do things that most clubs and many political organizations cannot. As a combined club AND PAC the potential is massive.
Being a State PAC, rather than a Federal PAC, Super PAC or Hyper PAC of any type allows us to work directly with any Arizona city, county or state candidate or elected official, allows us to work with any campaign, county party and the State party and, further, allows us to actually coordinate with any or all of these. Being a State PAC allows us to receive donations from any American citizen, business or organization (except for corporations) in any amount to further the objectives of Stonewall Democrats and stand against the more radical and extreme candidates, office holders and organizations who attempt to prevent equality and stamp out civil rights.
For the first time in five decades, we Americans have an opportunity to think about marriage in a way that brings us together rather than drives us apart. What for most of our lives has been a culture war can now become a common cause.
We also stand at a point of fundamental transition. American marriage is moving in two directions. It is becoming more equal for gays and lesbians who have long been denied it and less equal for millions of lower and middle class Americans who are no longer able to achieve it.
This remarkable moment of both possibility and urgency calls us to think anew about the future of marriage. A Marriage Opportunity Council will embrace this challenge.
We seek nothing less than a new pro-family coalition: one that builds from the center out instead of the right in; one that both liberals and conservatives can help to create and lead, each on the basis of some of their most deeply held values; one that deepens the meaning of "marriage equality" in the 2010s to include social class as well as sexual orientation; and one that changes family values from a culture war slogan to a common cause.
Luther on Marriage, for Gay and Straight by Kirsi Stjerna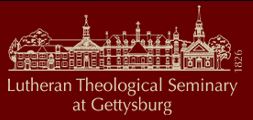 Seminary Ridge Review is published by Lutheran Theological Seminary at Gettysburg. The article below is from the Spring 2014 issue (Volume 16, Number 2).
Luther on Marriage, for Gay and Straight by Kirsi Stjerna - Kirsi Stjerna is Professor of Reformation Church History and Director of the Institute for Luther Studies at Lutheran Theological Seminary at Gettysburg, and Docent/Adjunct Professor in the Faculty of Theology at University of Helsinki. Her degrees are from University of Helsinki and Boston University. In anticipation of the 2017 Luther anniversary, Stjerna serves as one of the general editors for the forthcoming Essential Luther (6 volumes, Fortress Press).
The Actual Motion for Summary Judgment Available as PDF Downloads

April 21, 2014, was a big day for Plaintiffs and Lawyers in the case against the State of Arizona regarding the ban of same-sex marriage.
You can read the actual Motions as PDFs. CLICK HERE
PLEASE FORWARD THIS TO YOUR LOCAL MEDIA.
Arizona Separates Same-Sex Couples Into Separate Class for Tax Preparation

Another amazing situation where the State of Arizona separates same-sex couples into a separate class for the purpose of tax preparation.
Same-sex couples must prepare special forms and prepare additional income tax forms to comply with the State's constitution despite the federal government's recognition of same-sex marriage.
Instead of preparing a joint federal and a joint state tax return, same-sex are now required to create FIVE tax returns. The additional tax returns are required to discover the actual amounts required by the state's returns.
Purple Unions

All the News We Can Find on Gay Marriage & Marriage Equality
Reconciling Works - Lutherans for Full Participation

ReconcilingWorks believes that marriage matters. We believe marriage is about committed couples who want to make a lifelong promise to take care of and be responsible for each other.
Marriage is about the mutual sharing of selves. It's a way of saying "We are family." Married couples and their families are committed to one another in all aspects of life—in all things physical, emotional, material, spiritual—so that we become, as Genesis puts it, "one flesh."
As Lutherans, we believe that marriage is a vocation that strengthens couples, their families, and the community. It's both a way for God to do God's work in people's lives . . . and a way for people to do God's work in the world. It's a way for married couples and their families to mirror, as best they can, God's total love for the world.
Read the complete Oklahoma decision. Download a PDF copy.
Gay Marriage Rulings In Oklahoma And Utah Build Momentum

Brady McCombs and Sean Murphy write in the Huffington Post, "OKLAHOMA CITY (AP) — In less than a month, two federal judges have struck down state bans on gay marriage for the same reason, concluding that they violate the Constitution's promise of equal treatment under the law.
Michigan's Foremost Anti-Gay Republican Just Had A Very Hateful Week On Facebook

At this point, former Michigan state Rep. Dave Agema (R) is known more for making inflammatory and controversial statements about gay people than lawmaking.
The Republican National Committee member is coming under fire for two new Facebook posts -- one demeaning Muslims, and another defending Russia's anti-gay propaganda law.
Last Tuesday, Agema shared a link to a Jan. 6 Facebook post from the Illinois Family Institute, headlined, "Russia's Anti-Propaganda Law Riles Pro-Homosexuality Crowd," with the note, "Read their law. Common sense in Russia!"
Same-sex marriage debate could impact proposed Utah nondiscrimination bill

The battle over same-sex marriage could change how a proposed statewide nondiscrimination law plays out in the Utah Legislature this year.
Same-sex marriage and "perk" time

Most legal experts tracking the same-sex marriage lawsuit in Utah have opined that the U.S. Supreme Court didn't expect — and doesn't want — to tackle the issue again so quickly after its rulings this summer in the Proposition 8 and DOMA cases.
Rolly: A same-sex marriage in a Mormon temple?

For all of the fuss about U.S. District JudgeRobert Shelby's decision allowing same-sex couples to marry in Utah and Gov. Gary Herbert's refusal to recognize the more than 1,300 marriage licenses issued before the Supreme Court stayed the ruling, these weren't the first such unions conducted in the Beehive State.
In fact, Utah's first recorded same-sex marriage occurred more than 20 years ago in, of all places, the LDS Church's Salt Lake City Temple.
NOM Leader: 'Same-Sex Marriage Bullies' Oppressing Christians

Brian Brown, the president of the antigay National Organization for Marriage, is latching on to the U.S. Supreme Court's stay of a Utah marriage equality ruling to claim there's "momentum" for his side against "rabid same-sex marriage bullies" who would make Christians second-class citizens.
And in other right-wing news, antigay activist Peter LaBarbera of Americans for Truth About Homosexuality says he'd prefer to see children with single parents than with same-sex couples, and he wants to recriminalize homosexuality — but he's not quite sure how to punish it.
States May Recognize Same-Sex Marriages, But Navajo Nation Won't

The Navajo Nation has prohibited same-sex marriage since 2005, when the Diné Marriage Act was passed. Now, critics are challenging that ban.
As the largest reservation in the U.S., the Navajo Nation straddles the borders of three states: New Mexico, Arizona and Utah. Utah has been embroiled in its own same-sex marriage battle recently (the state halted gay marriages Monday).
But these state laws do not affect the Navajo Nation ban.
Michel Martin, host of NPR's Tell Me More, recently sat down with Deswood Tome, a special adviser to the president of the Navajo Nation, and activist Alray Nelson of the Coalition for Navajo Equality.
Meet the man behind Utah's same-sex marriage lawsuit

When Mark Lawrence heard that a federal judge in California had overturned that state's constitutional amendment banning gay marriage, he had an immediate reaction: This could happen here.
Of course, most people thought Lawrence was nuts.
Utah puts same-sex marriages on hold pending appeal
Chicago Tribune (January 8, 2014) (SALT LAKE CITY (Reuters) - Utah will not recognize, at least for now, the marriages of gay couples who rushed to wed after a federal judge's ruling briefly legalized gay unions in the conservative, predominantly Mormon state, the governor's office said on Wednesday.
Diaz v Brewer
In another case (CV09-2402-PHX-JWS) against the State of Arizona, gay individuals sued for the rights of family leave, parter health insurance benefits,
What Does the Bible Really Say About Homosexuality?

David Lose in The Huffington Post (October 10, 2011) - Actually, a whole lot less than you might imagine! That may be hard to believe given the fierce rhetoric Christians often employ when talking about homosexuality, but there are really only seven passages in the Bible that refer directly to homosexual behavior, and none of them are associated with Jesus. Compare that to the more than 250 verses on the proper use of wealth or more than 300 on our responsibility to care for the poor and work for justice, and you appreciate quickly that homosexuality was not exactly a major theme of the Bible.
---
---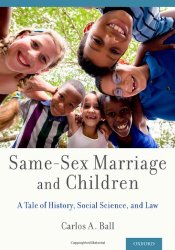 Same-Sex Marriage and Children is the first book to bring together historical, social science, and legal considerations to comprehensively respond to the objections to same-sex marriage that are based on the need to promote so-called "responsible procreation" and child welfare. Carlos A. Ball places the current marriage debates within a broader historical context by exploring how the procreative and child welfare claims used to try to deny same-sex couples the opportunity to marry are similar to earlier arguments used to defend interracial marriage bans, laws prohibiting disabled individuals from marrying, and the differential treatment of children born out of wedlock. Ball also draws a link between welfare reform and same-sex marriage bans by explaining how conservative proponents have defended both based on the need for the government to promote responsible procreation among heterosexuals.
In addition, Ball examines the social science studies relied on by opponents of same-sex marriage and explains in a highly engaging and accessible way why they do not support the contention that biological status and parental gender matter when it comes to parenting. He also explores the relevance of the social science studies on the children of lesbians and gay men to the question of whether same-sex couples have a constitutional right to marry. In doing so, the book looks closely at the gay marriage cases that recently reached the Supreme Court and explains why the constitutionality of same-sex marriage bans cannot be defended on the basis that maintaining marriage as an exclusively heterosexual institution helps to promote the best interests of children. Same-Sex Marriage and Children will help lawyers, law professors, judges, legislators, social and political scientists, historians, and child welfare officials-as well as general readers interested in matters related to marriage and families-understand the empirical and legal issues behind the intersection of same-sex marriage and children's welfare.
---