Friends of Arizona Equality
---
Arizona Episcopal Diocese Blesses Same-sex Marriages


The Rt. Rev. Kirk S. Smith, Bishop of the Diocese of Arizona has announced that same-sex marriages may be blessed and celebrated in Episcopal churches in Arizona in the wake of today's decision by the Ninth Circuit Court of Appeals. Bishop Smith states that "The people of the Episcopal Church are in the blessing business. We are reminded from the first letter of John to, 'love one another, because love is from God; everyone who loves is born of God and knows God.'" Bishop Smith continues by saying, "It is our practice to study Holy Scripture, Christian tradition and the ongoing leadership of the Holy Spirit bearing fruit in the lives of the people of God. Through this process we have come to a deep appreciation of St. Paul's words to the Galatians, 'there is no longer slave or free, there is no longer male and female; for all of you are one in Christ Jesus.'"
Arizona's Political Machine Still Bucks The Trend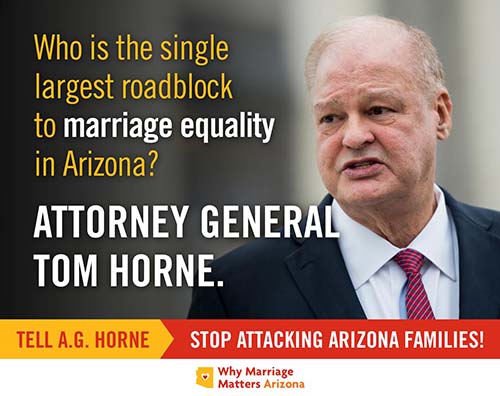 Thousands of tax dollars are being spent to fight marriage equality in the State of Arizona. Reckless use of money by pandering to lobby groups who have no interest in seeing diversity and full inclusion of all Arizona citizens. Help us join with WhyMarriageMatters.com to hold this roadblock accoiuntable.
Stonewall Democrats of Arizona


Stonewall Democrats of Arizona is a statewide, Arizona LGBTQI Democratic club. We are registered with and recognized by the State of Arizona as a Political Action Committee (PAC)...the key word being ACTION. As a club SDA is able to do certain things, become involved in certain ways. As a PAC, SDA is able to do things that most clubs and many political organizations cannot. As a combined club AND PAC the potential is massive.
Being a State PAC, rather than a Federal PAC, Super PAC or Hyper PAC of any type allows us to work directly with any Arizona city, county or state candidate or elected official, allows us to work with any campaign, county party and the State party and, further, allows us to actually coordinate with any or all of these. Being a State PAC allows us to receive donations from any American citizen, business or organization (except for corporations) in any amount to further the objectives of Stonewall Democrats and stand against the more radical and extreme candidates, office holders and organizations who attempt to prevent equality and stamp out civil rights.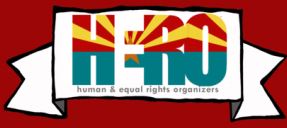 Hero's mission is to create all inclusive coalitions to secure equal rights through Service, Action, Visibility, and Education in local communities.
HERO was formed in early November 2008 after the passage of prop 102 in Arizona and Prop 8 in California, both of which legally defined marriage between one man and one woman. At that point, we realized that people needed to become more visible and educated about the issues faced within the LGBTQ community. The HERO Steering Committee is an all volunteer, grassroots group of community organizers and leaders with diverse backgrounds.

To be the preeminent LGBTQ advocacy organization for the State of Arizona and to work collaboratively to establish a comprehensive network of individuals and organizations to secure, protect and defend the equal civil rights and welfare of lesbian, gay, bisexual, transgender and queer people in Arizona.
LGBT QNation - Following the Federal Challenge to Arizona's Constitutional Ban on Same-sex Marriage.

America's Most Followed LGBTQ News Source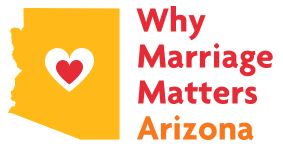 Why Marriage Matters Arizona is a grassroots public education campaign to build support for the freedom to marry in Arizona. This campaign is about sharing stories and fostering conversation – showing that every gay and lesbian person is part of someone's family and should be treated with compassion and respect.
It's is a discussion about freedom and liberty. Marriage is a basic freedom that should not be denied to anyone.
This campaign is an opportunity to consider new information and perhaps reconsider old ideas. It is about opening hearts and minds throughout our state.
This project was founded by Equality Arizona, ACLU Foundation of Arizona, Freedom to Marry and the Human Rights Campaign Foundation with the support and leadership of countless local businesses, clergy and community organizations.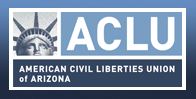 Thier goal is simple: win the freedom to marry for same-sex couples all across Arizona. To win marriage we need to build public support by starting a conversation.
That's why the ACLU of Arizona is a key partner in the Why Marriage Matters Arizona campaign. They are working with national and local coalition partners to encourage a public dialogue. They want to get everyone in our state talking about why marriage matters.
Same-sex couples want to get married for the same reasons as opposite-sex couples. Couples marry because they want to make a lifetime commitment, to be there for each other when times are good and when things get tough. Marriage is a public promise of love and responsibility for each other. No Arizonan should be told it's illegal to marry the person they love.
They envision the Navajo Nation as a safe, supportive, & inclusive home for our gay, lesbian, bisexual, & transgender family members.
The mission of the Coalition for Navajo Equality is to work with elders, young people, community leaders, & the Navajo government to achieve equality & prosperity for the LGBTQ community. We strive to inspire & engage our Navajo people while working day by day to bring an end to discrimination.

Pursuing their Roadmap to Victory national strategy, they create the climate for a Supreme Court victory by working on three tracks: winning the freedom to marry in more states, growing the national majority for marriage, and ending federal marriage discrimination. They partner with individuals and organizations across the country to end the exclusion of same-sex couples from marriage and the protections, responsibilities, and commitment that marriage brings.
---
---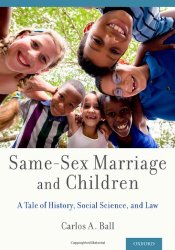 Same-Sex Marriage and Children is the first book to bring together historical, social science, and legal considerations to comprehensively respond to the objections to same-sex marriage that are based on the need to promote so-called "responsible procreation" and child welfare. Carlos A. Ball places the current marriage debates within a broader historical context by exploring how the procreative and child welfare claims used to try to deny same-sex couples the opportunity to marry are similar to earlier arguments used to defend interracial marriage bans, laws prohibiting disabled individuals from marrying, and the differential treatment of children born out of wedlock. Ball also draws a link between welfare reform and same-sex marriage bans by explaining how conservative proponents have defended both based on the need for the government to promote responsible procreation among heterosexuals.
In addition, Ball examines the social science studies relied on by opponents of same-sex marriage and explains in a highly engaging and accessible way why they do not support the contention that biological status and parental gender matter when it comes to parenting. He also explores the relevance of the social science studies on the children of lesbians and gay men to the question of whether same-sex couples have a constitutional right to marry. In doing so, the book looks closely at the gay marriage cases that recently reached the Supreme Court and explains why the constitutionality of same-sex marriage bans cannot be defended on the basis that maintaining marriage as an exclusively heterosexual institution helps to promote the best interests of children. Same-Sex Marriage and Children will help lawyers, law professors, judges, legislators, social and political scientists, historians, and child welfare officials-as well as general readers interested in matters related to marriage and families-understand the empirical and legal issues behind the intersection of same-sex marriage and children's welfare.
---