AFER: Three More States Just Won Marriage Equality

We just picked up more states with the freedom to marry, and the number could continue increasing over the course of this week. But in several states, officials are blocking the start of marriage despite courts ruling against their bans. We'll have the details on how couples are fighting back. Plus, more bad news for the National Organization for Marriage. This time it's a ruling in Virginia that means they'll lose out on over half a million dollars.
9th Circuit Rules in Favor of Marriage in Nevada and Idaho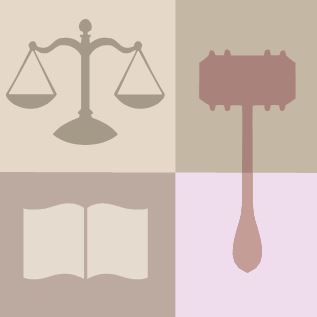 The unanimous opinion, authored by Judge Stephen Reinhardt and joined by Judge Marsha Berzon and Judge Ronald Gould.
If I Have Gay Children
Jean Ann Esselink writes, "John Pavlovitz is a Christian pastor in North Carolina, but he is not what we have come to expect a Christian pastor in North Carolina to be. He's married and is dad to two small biblically-named kids, (left) Noah and Selah. That's the Pavlovitz picture perfect family portrait above."
Idaho Resident Denied Veterans Benefits
U.S. House Republicans Continue to Deny Benefits to Gay Veterans, Including Idaho's Madelynn Taylor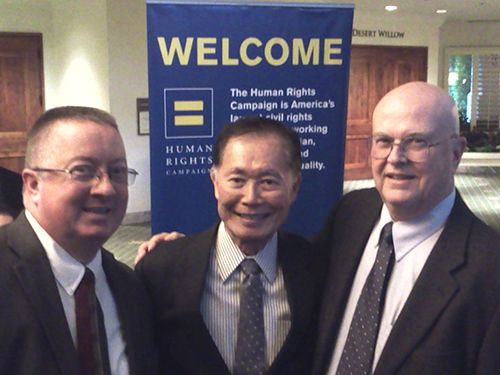 We were fortunate to meet George Takei and his partner Brad Altman at the HRC dinner this past March in Phoenix. A handshake, a hug and a word of encouragement from George and Brad helped make our same sex marriage fight here in Arizona, just a bit easier. But our struggle pales in comparison to the personal story of Mr. Takei during World War II. Take sixteen minutes of your time to learn about his struggle and how he now fights for equal rights throughout this great land we call home, a land we call America.
As a child, George Takei, his siblings and parents, all United States citizens, were forced into an internment camp for Japanese-Americans, as a "security" measure during World War II. Seventy years later, Takei looks back at how the experience shaped his surprising, personal definition of patriotism and democracy.
Thomas Beatie Allowed to Pursue Divorce
A trans man seeking a divorce from his wife in Arizona has been allowed to continue divorce proceedings after a panel of judges overturned a previous ruling claiming the marriage wasn't recognised.
State Lawyers Ignore Public Support for Marriage: July 28 MNW

The rules have changed yet again this week in Colorado, with new rulings on marriage from multiple courts. New polls show growing support for equality in western states, but multiple Attorneys General have filed new briefs to stop gay and lesbian couples from marrying. And another Republican member of Congress has come out in favor of the freedom to marry.
Another week, and another win for marriage equality. This time, it's Florida. But the freedom to marry is in jeopardy in Colorado. Meanwhile an appeals court has set a date for oral argument in two states, but then said never mind. And the Department of Justice has indicated its plans for addressing the freedom to marry before the Supreme Court.
FMLA Available for Arizona Same-Sex Couples

Same-sex couples in states where they cannot legally marry, such as Arizona, could qualify for the federal Family and Medical Leave Act, under a new Obama administration proposal.
The U.S. Department of Labor has issued a proposed rule to expand who can qualify for long-term FMLA leave to include same-sex couples who are married in states that recognize such unions.
That is an expansion of a 2013 rule that included same-sex couples in FMLA benefits if they are living and working in a state that recognizes gay marriage
Milestones to report this week in Utah and Indiana

This week they are in Washington DC, where in one year we're all but guaranteed to have a ruling on the freedom to marry. We also have major milestones to report this week in Utah and Indiana.
More States Gain Freedom to Marry

More than sixteen and a half million Americans gained marriage equality last week, with decisive victories in Oregon and Pennsylvania. We have brand new lawsuits in the last few states that needed one. And the National Organization for Marriage has suffered even more losses this week.
Bisbee, Arizona - Gay Rights Update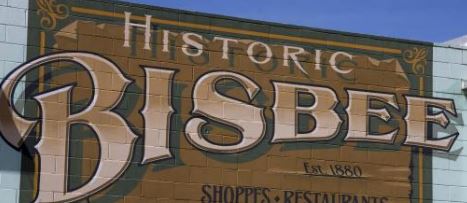 Gay rights in a small Arizona town just north of the Mexican border.
Jo Becker Talks about Marriage Equality on NPR and her new Book - Forcing The Spring

Jo Becker is an investigative reporter with The New York Times. When she was at The Washington Post, she shared a Pulitzer Prize with Barton Gellman for their reporting on then-Vice President Dick Cheney.
In her new book, Forcing the Spring, investigative reporter Jo Becker goes behind the scenes in the fight for marriage equality. Above, Eric Breese of Rochester, N.Y., joins hundreds of others to rally outside the Supreme Court during oral arguments in a case challenging the Defense of Marriage Act on March 27, 2013.
In her new book, Forcing the Spring, investigative reporter Jo Becker tells the behind-the-scenes story of an important chapter in the fight for marriage equality. She embedded with the team that challenged Proposition 8 — the 2008 anti-gay-marriage California ballot initiative that called for amending the state constitution to say that the state would only recognize marriage between a man and a woman.
The case is one of two Arizona same-sex marriage ban challenges filed this year and pending in federal court in Phoenix. Lawyers for the state deny that Arizona's ban violates constitutional rights.
Prop 8 Lawyer Plans Lesbian Daughter's Wedding

The lawyer who led the defense of Proposition 8 now says his attitudes are evolving as he plans his daughter's lesbian wedding. Michigan officials are trying to invalidate hundreds of couples' marriage licenses, but now those couples are fighting back. And a Judge in Ohio has issued one of the most strongly-worded rejections of a marriage ban to date.
Republican Alan Simpson Supports Marriage Equality

A Republican icon, Alan K. Simpson, comes out in support of marriage equality. Alan Simpson served from 1979 to 1997 as a United States Senator from Wyoming. We've had a sting of major marriage wins in the last few months, but now anti-gay groups will keep trying to tear those victories down in a series of hearings. Support for marriage equality is picking up in conservative states, a terminally ill woman in Indiana is one step closer to getting her marriage recognized, and we have more lawsuits on the horizon in the south.
Uncover the truth about marriage for gay and lesbian Americans. George Clooney, Martin Sheen and Jane Lynch join an all-star cast for a one-night-only benefit reading of "8," the new play by Academy-award winning screenwriter Dustin Lance Black (Milk, J. Edgar) that chronicles the landmark federal trial of California's Prop. 8 using the actual court transcripts and first-hand interviews.
American Foundation for Equal Rights Video Update March 31, 2014

Michigan Governor Rick Snyder has good news and bad news marriage in Michigan. One Missouri lawmaker is taking a stand for equality. We have more good news from national polling. And five couples in Mississippi requested marriage licenses last week. What happened next will probably not surprise you.
Weekly Video Report: March 24, 2014

Michigan's marriage ban is unconstitutional. Oklahoma couples fight back in court against an anti-gay group making misleading claims about children. A pro-equality ruling is delayed, pending appeal. But another is put in place as of now. We have some important hearings coming up very soon. And pro-equality Republicans hang on to their seats in a tight election.
Michigan Town's Mayor Helps Gay Couples Time the Knot after Historic Ruling

After federal judge's ruling striking down 10-year ban on same-sex marriage, the mayor of a Detroit suburb is making it easier for Michiganders to get married. Ferndale Mayor Dave Coulter said Saturday he would officiate marriage ceremonies at Affirmations, 290 W. Nine Mile between 10 a.m. – 1 p.m., a day after U.S. District Judge Bernard Friedman struck down the State of Michigan's ban on same sex marriages.
Michigan's Ban Ruled Unconstitutional

Michigan's 10-year-old ban on gay marriage is unconstitutional, a federal judge ruled Friday in Detroit. U.S. District Judge Bernard Friedman's ruling says the ban violates the Equal Protection Clause of the 14th Amendment to the U.S. Constitution.
SCOTUS Blogs: Tennessee ruling on married same-sex couples

Citing "a rising tide" of federal court rulings in favor of marriage rights for same-sex couples, and anticipating that state bans on such marriages may soon "become a footnote in the annals of American history," a federal judge in Nashville ordered Tennessee officials on Friday to begin recognizing the out-of-state marriages of one lesbian couple and two gay couples.
U.S. District Judge Aleta A. Trauger emphasized that she was only ruling temporarily, and only for those three couples, while their case continues in her court. While she noted that a string of federal court rulings has now gone uniformly in favor of marriage equality, she said her final decision on recognition of such marriages may be influenced if that trend does not continue.
Tennessee not only bans same-sex marriages, especially under a 2006 state constitutional amendment that got an eighty-percent majority of voters, but it also refuses to recognize any such marriages performed elsewhere. In the case before Judge Trauger, two of the couples had been married in New York and one in California -- two states among the seventeen that now permit such marriages. All three couples now live in Tennessee, and are seeking equal access to benefits that go with being married.
The judge stressed that she was only ruling, at this point, on whether to block temporarily the refusal to recognize non-Tennessee marriages already performed. She said her ruling should not be interpreted as saying anything about the ban on couples who want to get married in Tennessee.
And yet, in spite of the narrowness that she stressed, the judge's decision relied heavily upon the reasoning used by other judges in same-sex marriage cases.
She commented: "At some point in the future, likely with the benefit of additional precedent from circuit courts and, perhaps, the Supreme Court, the court will be asked to make a final ruling on the [three couples'] claims."
She added that, "at this point, all signs indicate that, in the eyes of the United States Constitution, the [three couples'] marriages will be placed on an equal footing with those of heterosexual couples."
Judge Trauger was the third judge in a southern or border state to find at least some right to marriage equality for same-sex couples. The others were in Kentucky and Virginia. State bans on same-sex marriage got some of the strongest support from voters in that part of the U.S.
So far, no federal court of appeals has issued a final ruling on the issue since the Supreme Court's decision last June, in United States v. Windsor, striking down the federal Defense of Marriage Act's ban on marital benefits for already married same-sex couples. Hearings are scheduled in the courts of appeals in April and May in cases involving the state bans in Oklahoma, Utah, and Virginia, and a hearing is likely to be scheduled before long in circuits that have been or will be asked to rule on bans in Nevada and Texas.
Kentucky's Attorney General Jack Conway Emotional Statement

Kentucky Attorney General Jack Conway announced on March 4, 2014, that his office will not defend the state's gay marriage ban that now rests in an appearl of a federal court ruling. Governor Steve Besher said that he will hire outside counsel to do the appeal of the ruling.
Hispanic National Bar Association Denounces Arizona's Discriminatory Legislation

The HNBA urges Arizona Governor Jan Brewer to veto the proposed legislation that blatantly discriminates against members of Arizona's lesbian, gay, bisexual and transgender (LGBT) community. Late on Thursday, February 20, 2014, the Arizona State legislature sent a bill to Governor Brewer that would allow business owners to refuse to serve gay and lesbian customers as long as those business owners assert their religious beliefs as the basis for the refusal.
Republican Discrimination in Kansas - Could This Happen In Arizona?

If the Republican Party wanted to demonstrate that it wants no votes from anyone under 40, it couldn't have found a better way to do it. Some critics have reacted to this law with the view that it is an outrageous new version of Jim Crow and a terrifying portent of the future for gays in some red states. It is both of those. It's the kind of law that Vladimir Putin would enthusiastically support. But it is also, to my mind, a fatal mis-step for the movement to keep gay citizens in a marginalized, stigmatized place. .
Kansas: Passes Bill to Refuse Service to Same-Sex Couples

Denying services to same-sex couples may soon become legal in Kansas.
House Bill 2453 explicitly protects religious individuals, groups and businesses that refuse services to same-sex couples, particularly those looking to tie the knot.
It passed the state's Republican-dominated House on Wednesday with a vote of 72-49, and has gone to the Senate for a vote.
Such a law may seem unnecessary in a state where same-sex marriage is banned, but some Kansas lawmakers think different.
They want to prevent religious individuals and organizations from getting sued, or otherwise punished, for not providing goods or services to gay couples -- or for not recognizing their marriages or committed relationship as valid.
This includes employees of the state
Kentuckey Judge Has Struck Down the State's Ban

In a ruling that could open the door to gay marriage in Kentucky, a federal judge has struck down the state's ban on recognizing same-sex unions performed in states where it is legal.
U.S. District Judge John G. Heyburn II ruled Wednesday that Kentucky's prohibition violates the U.S. Constitution's guarantee of equal protection under the law by treating gays and lesbians "differently in a way that demeans them."
Ruling in a suit brought by four gay and lesbian couples and their children, Heyburn said that, while "religious beliefs ... are vital to the fabric of society ... assigning a religious or traditional rationale for a law does not make it constitutional when that law discriminates against a class of people without other reasons."
Idaho Supreme Court - Gay and Lesbian Couples Can Adopt

The Idaho Supreme Court says gay and lesbian couples have the same right to adopt children as anyone else under state law.
The unanimous high court handed down the opinion Monday, clearing the way for Darcy Drake Simpson to adopt the two children that she has raised with her partner, Rene Simpson, since the first child was born 15 years ago.
The Idaho Statesman (http://bit.ly/1iLM8lM ) reports the Boise couple has been together since 1995 and they were married last year in California. Rene Simpson gave birth to their first son in 1998, and adopted a second boy as an infant in 2001.
Attorney General Will No Longer Defend Marriage Ban In Court

Chris Johnson writes in the Washington Blade on February 10, 2014, "Nevada Attorney General Catherine Cortez Masto announced on Monday she has sought to withdraw her earlier legal brief that argued against marriage equality — an action one advocate says indicates she'll no longer defend in court her state's ban on same-sex marriage...."
Louisiana Constitution Challenged

"A gay rights group plans a legal challenge to the Louisiana Constitution's prohibition against recognizing same-sex marriages performed legally in other states.
The Forum for Equality Louisiana and four gay married couples have called a Wednesday news conference on the issue.
A draft of the group's planned lawsuit, obtained by The Associated Press, attacks the marriage recognition ban on several fronts.
For instance, it says state revenue department policy, based on the ban, essentially requires married same-sex couples who file joint federal tax returns to falsely claim they are single on state returns — a violation, the Forum says, of free speech.
The lawsuit challenges the state's refusal to recognize both members of a same-sex union as parents of a child born to them or adopted."
Four States Gay Right Court Cases

Since the early hours of 2014, there has been a flurry of activity in the courts over state bans on same-sex marriages. On New Year's Eve (apparently while also presiding over the ball drop in New York City), Supreme Court Justice Sonia Sotomayor granted a request by the state of Utah to temporarily block same-sex marriages, after a federal judge struck down a law prohibiting them in the state. Utah is just one of 33 states that have banned gay marriage. Those states have found themselves under legal assault since the Supreme Court last year struck down a portion of the Defense of Marriage Act and allowed Proposition 8, California's ban on same-sex marriage, to be nullified.
6 Gay Couples Sue to Overturn Florida Same-Sex Marriage Ban

Six gay couples filed a lawsuit in Miami Tuesday to overturn Florida's ban on same-sex marriage. The lawsuit was filed on behalf of the couples by Equality Florida, a state activist group. It claims Florida's laws that bar same-sex couples from marrying violate the U.S. Constitution by denying them equal protection and due process. The couples, who are all from South Florida, are represented by the law firm Carlton Fields Jorden Burt, attorney Elizabeth F. Schwartz, attorney Mary B. Meeks and the National Center for Lesbian Rights.
Read the complete Oklahoma decision. Download a PDF copy.
Whitewood v. Wolf: Plaintiff Profiles

The American Civil Liberties Union of Pennsylvania, the American Civil Liberties Union, and volunteer counsel from the law firm of Hangley Aronchick Segal Pudlin & Schiller have filed a federal lawsuit on behalf of 21 Pennsylvanians who wish to marry in Pennsylvania or want the Commonwealth to recognize their out-of-state marriages. Read about our clients below, and learn more about the case, Whitewood v. Wolf, here.