Joe Connolly and Terry Pochert Featured in 'The Concord'
---
Faith and Justice Call Us to Court - Lutheran couple first to challenge Arizona marriage ban.
BY JOSEPH CONNOLLY
In January of 2014, Joseph Connolly (above right) and Terry Pochert (above left) were the first couple in Arizona to file a lawsuit to remove the state's ban on same-gender marriage. In October of that same year, U.S. District Judge John W. Sedwick did just that, declaring Arizona's ban on same-sex marriage unconstitutional, immediately ordering the state not to enforce it.
Terry and I are often asked, "What led you to bring a case challenging the Arizona ban on same-gender marriage?" Our answers: God, faith, freedom of religion, equal rights, social justice, But Terry and I credit two church communities, Faith Lutheran and University Lutheran, both in the Phoenix area, for the victory for marriage equality in Arizona in 2014. Here's how we got there….
In 1995, Terry and I met in the Detroit, Michigan, suburbs. Terry was the organist at his small ELCA congregation in Novi, Michigan. While Terry welcomed me to attend his church, I was hesitant. I joked I didn't want to be the organist's boyfriend but, in reality, I wasn't ready to go back. I was afraid I wouldn't feel welcome. I was afraid our relationship would have an impact on his position and his membership in the congregation. .... the story continues.
There ARE HUNDREDS of CHURCHES that WILL WELCOME YOU and YOUR FAMILIES.
All About Reconciling Works / Lutherans For Full Participation - ReconcilingWorks: Lutherans for Full Participation advocates for the full inclusion of lesbian, gay, bisexual, and transgender Lutherans in all aspects of the life of their Church and congregations. We provide a place of comfort and safety. We reach out to teach that Christ's message, the Gospel, is for everyone equally. We advocate for systemic change in policy and practice in church and society, working to alleviate not only the painful symptoms of oppression but also to eliminate its root causes.
---
---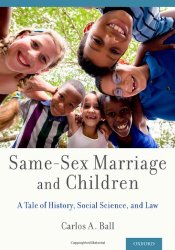 Same-Sex Marriage and Children is the first book to bring together historical, social science, and legal considerations to comprehensively respond to the objections to same-sex marriage that are based on the need to promote so-called "responsible procreation" and child welfare. Carlos A. Ball places the current marriage debates within a broader historical context by exploring how the procreative and child welfare claims used to try to deny same-sex couples the opportunity to marry are similar to earlier arguments used to defend interracial marriage bans, laws prohibiting disabled individuals from marrying, and the differential treatment of children born out of wedlock. Ball also draws a link between welfare reform and same-sex marriage bans by explaining how conservative proponents have defended both based on the need for the government to promote responsible procreation among heterosexuals.
In addition, Ball examines the social science studies relied on by opponents of same-sex marriage and explains in a highly engaging and accessible way why they do not support the contention that biological status and parental gender matter when it comes to parenting. He also explores the relevance of the social science studies on the children of lesbians and gay men to the question of whether same-sex couples have a constitutional right to marry. In doing so, the book looks closely at the gay marriage cases that recently reached the Supreme Court and explains why the constitutionality of same-sex marriage bans cannot be defended on the basis that maintaining marriage as an exclusively heterosexual institution helps to promote the best interests of children. Same-Sex Marriage and Children will help lawyers, law professors, judges, legislators, social and political scientists, historians, and child welfare officials-as well as general readers interested in matters related to marriage and families-understand the empirical and legal issues behind the intersection of same-sex marriage and children's welfare.
---