Aiken Schenk Attorneys at Law HRC Award
---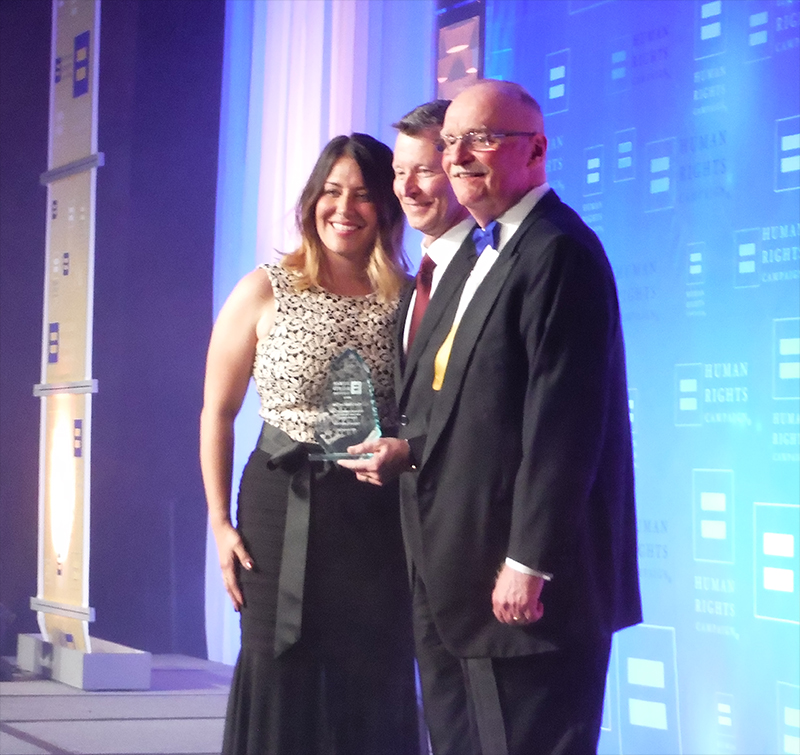 Shawn Aiken receiving Award with HRC Gala co-chairs, Katy June and Bob Jacobson. Photo by Terry Pochert
Our lawyer, Shawn Aiken, receiving the Human Rights Campaign Arizona's Corporate Equality Award on behalf of his firm, Aiken Schenk Attorneys at Law. Shawn and his team fought tirelessly for Marriage Equality here in Arizona. Aiken Schenk thanked the courageous clients who risked their privacy for the betterment of their community: Joe Connolly , Terry Pochert, Chris Hite-Devine, Mason Hite-Devine , Clark Rowley, David Chaney, Holly Mitchell , Suzanne Cummins , Meagan Metz , Natalie Metz, Renee Kaminski, Robin Reece , Jeff Ferst and Peter Bramley. Finally, Aiken Schenk acknowledged the invaluable contributions of the members of the entire legal team, all of whom were instrumental in winning this historic lawsuit against the State of Arizona: Aiken Schenk attorneys Heather Macre and William Knight ; Flagstaff co-counsel Mik Jordahl and Ryan Stevens ; Ellen Aiken, a Scottsdale attorney; and, Phoenix attorneys Mark Dillon, Susan Bovee , and Herb Ely. Shawn thanks his family, especially his wife, Lynn , for her constant love and support; and, his son, Eric, a law student, and daughter, Ellen, both of whom contributed to the result in the case. The award was presented on February 28, 2015, with the HRC Gala co-chairs, Katy June and Bob Jacobson.
The video by Mike Chesworth show prior to the presentation:
Corporate Equality Award -Aiken Schenk from CHESWORTH films™ on Vimeo.
Pictures of the Gala - February 28, 2015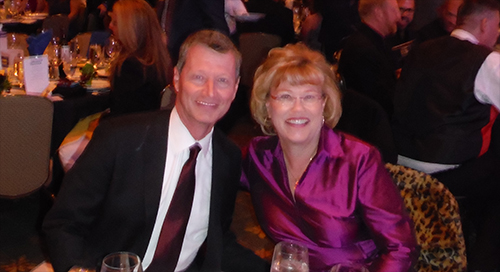 Shawn and Lynn Aiken. Photo by Terry Pochert

The full acceptance speech by Shawn Aiken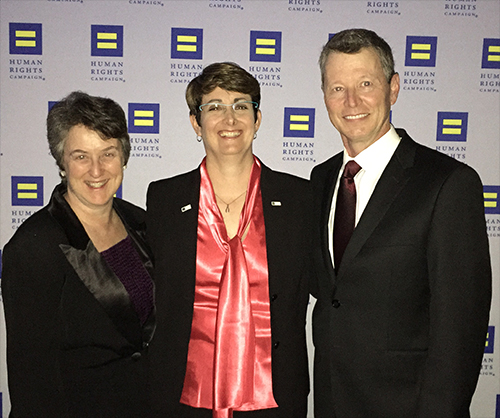 Jenny Pizer, Sheila Klefkorn and Shawn Aiken
Jenny Pizer accepted the Corporate Equality Award for Lambda Legal. Sheila is the director of HRC Arizona and Shawn accepted the Corporate Equality Award on behalf of his firm Aiken Schenk Attorneys at Law.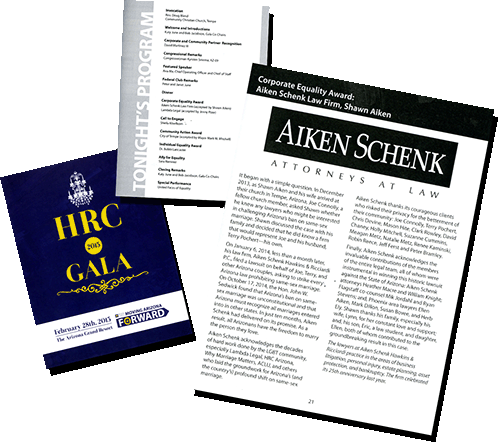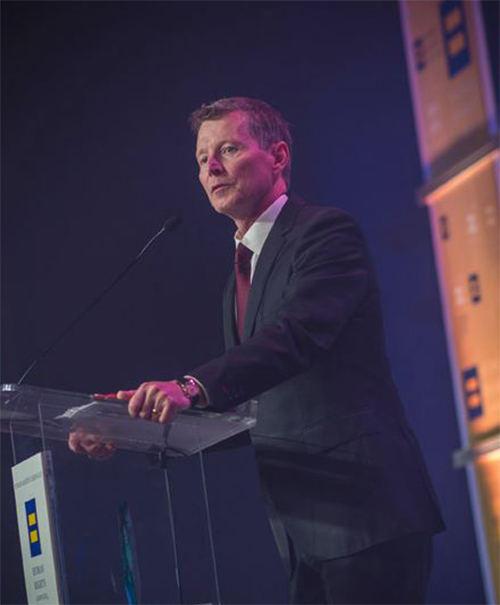 Shawn Aiken accepting the award at the HRC Gala.
References:
---
---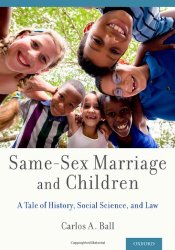 Same-Sex Marriage and Children is the first book to bring together historical, social science, and legal considerations to comprehensively respond to the objections to same-sex marriage that are based on the need to promote so-called "responsible procreation" and child welfare. Carlos A. Ball places the current marriage debates within a broader historical context by exploring how the procreative and child welfare claims used to try to deny same-sex couples the opportunity to marry are similar to earlier arguments used to defend interracial marriage bans, laws prohibiting disabled individuals from marrying, and the differential treatment of children born out of wedlock. Ball also draws a link between welfare reform and same-sex marriage bans by explaining how conservative proponents have defended both based on the need for the government to promote responsible procreation among heterosexuals.
In addition, Ball examines the social science studies relied on by opponents of same-sex marriage and explains in a highly engaging and accessible way why they do not support the contention that biological status and parental gender matter when it comes to parenting. He also explores the relevance of the social science studies on the children of lesbians and gay men to the question of whether same-sex couples have a constitutional right to marry. In doing so, the book looks closely at the gay marriage cases that recently reached the Supreme Court and explains why the constitutionality of same-sex marriage bans cannot be defended on the basis that maintaining marriage as an exclusively heterosexual institution helps to promote the best interests of children. Same-Sex Marriage and Children will help lawyers, law professors, judges, legislators, social and political scientists, historians, and child welfare officials-as well as general readers interested in matters related to marriage and families-understand the empirical and legal issues behind the intersection of same-sex marriage and children's welfare.
---