Meagan and Natalie - Wake Up Arizona! Don't Put Stress in More lives!
---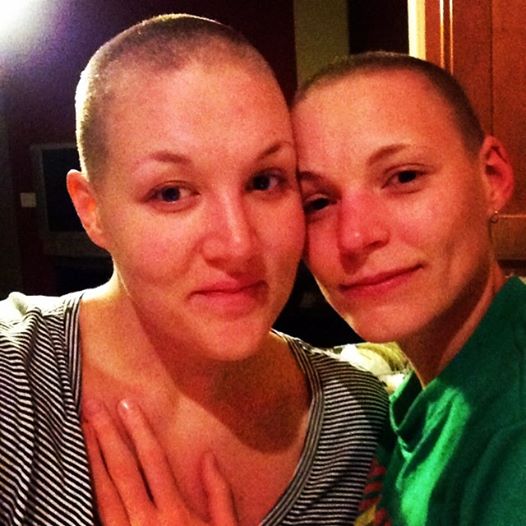 Natalie (left) also shaved her head in support of her spouse, Meagan (right).

Meagan and Natalie Metz are partners and fellow plaintiffs in a lawsuit against the State of Arizona. The importance of legalizing their relationship in the State of Arizona is now more important than ever.

Their story is briefly told on the lawsuits Website's Profile Page. "Meagan Pugh was born and raised in Salt Lake City, Utah and was raised in Seattle Washington. Natalie Metz was born in Indiana and raised in Mesa, Arizona. Megan and Natalie met through mutual friends in 2006 in the Flagstaff area. They started out as friends, dated first and in 2007 began a committed, exclusive and intimate relationship, the start of their life together. On May 29, 2013, Meagan and Natalie traveled to the State of Washington where they were engaged and formally made their commitment to each other on a ferry boat to Bainbridge Island."

Meagan's post on CaringBridge tells it all, "I've been diagnosed with SLE lupus within the last several months. This disease has progressed quickly for me and we've had minimal to no success in the treatment thus far. I have a team of about 8 doctors working together to find some answers and solutions to the progression of my condition. As of yet, its affected my internal organs as well as my central nervous system. As the disease progresses, our need for help from our amazing friends and family increases. We created this website as a place to update everyone on my current health status as well as an avenue to ask for help (which you all know has been very difficult for us!) We love you all so much and are so very grateful for everything you all do for us!"

Meagan and Natalie are asking for help.

References:

---
---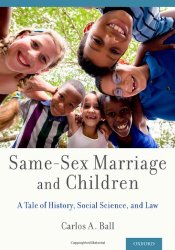 Same-Sex Marriage and Children is the first book to bring together historical, social science, and legal considerations to comprehensively respond to the objections to same-sex marriage that are based on the need to promote so-called "responsible procreation" and child welfare. Carlos A. Ball places the current marriage debates within a broader historical context by exploring how the procreative and child welfare claims used to try to deny same-sex couples the opportunity to marry are similar to earlier arguments used to defend interracial marriage bans, laws prohibiting disabled individuals from marrying, and the differential treatment of children born out of wedlock. Ball also draws a link between welfare reform and same-sex marriage bans by explaining how conservative proponents have defended both based on the need for the government to promote responsible procreation among heterosexuals.
In addition, Ball examines the social science studies relied on by opponents of same-sex marriage and explains in a highly engaging and accessible way why they do not support the contention that biological status and parental gender matter when it comes to parenting. He also explores the relevance of the social science studies on the children of lesbians and gay men to the question of whether same-sex couples have a constitutional right to marry. In doing so, the book looks closely at the gay marriage cases that recently reached the Supreme Court and explains why the constitutionality of same-sex marriage bans cannot be defended on the basis that maintaining marriage as an exclusively heterosexual institution helps to promote the best interests of children. Same-Sex Marriage and Children will help lawyers, law professors, judges, legislators, social and political scientists, historians, and child welfare officials-as well as general readers interested in matters related to marriage and families-understand the empirical and legal issues behind the intersection of same-sex marriage and children's welfare.
---