Alliance Defending Freedom Works to Restrict Religious Liberties
---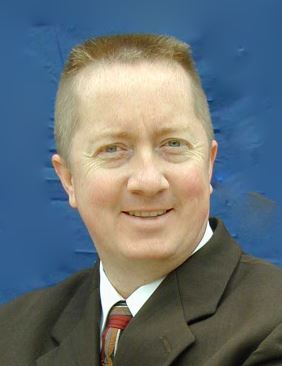 Joe Connolly
By Joe Connolly, Plaintiff in Connolly v Roche
Scottsdale, Arizona based Alliance Defending Freedom purports to work "For Faith. For Justice." as their logo shows. The "About" page of the ADF website shows a "History of Success" where "Since its founding in 1994, Alliance Defending Freedom has made a significant impact for God's Kingdom through its winning legal efforts to preserve religious freedom for people of faith".
Oh, REALLY... At least thirty people see this differently. I suspect more.
Thirty people, seven couples from Connolly v Roche and seven couples and two surviving spouses from Majors v. Horne are challenging the State of Arizona's ban on same sex marriage in two separate lawsuits.
Alliance Defending Freedom has partnered with the Arizona Attorney General's office to defend Arizona's archaic and discriminatory laws preventing same sex couples from marrying.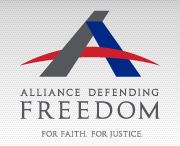 "For Faith. For Justice". I ask,
"For who?"
Why? Why would the State of Arizona allow a religious organization to participate in the defense of the state laws? Is this not the responsibility for the State to defend State laws? Is it not a conflict of interest? A "religious" organization defending secular marriage laws?
Alliance Defending Freedom is "For Faith. For Justice". I ask, "For who?"
In defending the Arizona marriage discrimination laws, the State of Arizona and ADF are intentionally and willfully denying gay and lesbian people of faith the full expression of their religious freedom by preventing them from the Sacrament of Marriage within their faith. A number of religious denominations allow same sex marriage in states where same sex marriage is legal. So why in God's name would a "Christian" based advocacy group work to deny same sex couples the full expression of their faith, their freedom of religion to marry in their denomination? Why is the ADF working to "preserve religious freedom for people of faith" but are simultaneously denying our gay and lesbian brothers and sisters in Christ the right to commit to each other before God in the Sacrament of Marriage?
I don't have an answer. I'm waiting on one from the State of Arizona and ADF.
I believe the plaintiffs in Connolly v. Roche and Majors v Horne will win their cases on equal protection grounds, similar to all the other cases and the Windsor decision last year. Someone should put the State of Arizona and ADF on notice and ask them. "Do you really want to continue to work your plan and continue to restrict religious freedoms for gay and lesbians in Arizona?" Religious freedom is for all, not just a specific group. Maybe that's the next lawsuit that needs to be filed.
The opinions expressed here are those of the author and those providing comments are theirs alone. The opinions expressed by the author do no reflect the opinions of the other plaintiffs in Connolly v Roche, Majors v Brewer or their legal teams.
References:
---
---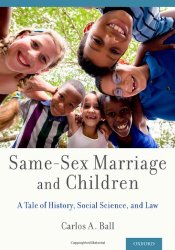 Same-Sex Marriage and Children is the first book to bring together historical, social science, and legal considerations to comprehensively respond to the objections to same-sex marriage that are based on the need to promote so-called "responsible procreation" and child welfare. Carlos A. Ball places the current marriage debates within a broader historical context by exploring how the procreative and child welfare claims used to try to deny same-sex couples the opportunity to marry are similar to earlier arguments used to defend interracial marriage bans, laws prohibiting disabled individuals from marrying, and the differential treatment of children born out of wedlock. Ball also draws a link between welfare reform and same-sex marriage bans by explaining how conservative proponents have defended both based on the need for the government to promote responsible procreation among heterosexuals.
In addition, Ball examines the social science studies relied on by opponents of same-sex marriage and explains in a highly engaging and accessible way why they do not support the contention that biological status and parental gender matter when it comes to parenting. He also explores the relevance of the social science studies on the children of lesbians and gay men to the question of whether same-sex couples have a constitutional right to marry. In doing so, the book looks closely at the gay marriage cases that recently reached the Supreme Court and explains why the constitutionality of same-sex marriage bans cannot be defended on the basis that maintaining marriage as an exclusively heterosexual institution helps to promote the best interests of children. Same-Sex Marriage and Children will help lawyers, law professors, judges, legislators, social and political scientists, historians, and child welfare officials-as well as general readers interested in matters related to marriage and families-understand the empirical and legal issues behind the intersection of same-sex marriage and children's welfare.
---