Mason Hite and Christopher Devine
---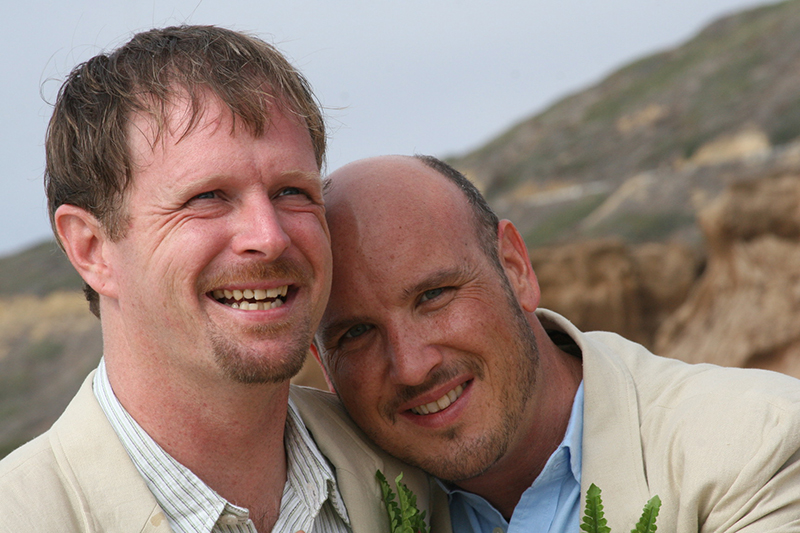 Mason Hite and Christopher Devine
Meet the Plaintiffs: Mason Hite and Christopher Devine
Mason Hite was raised in Phoenix, Arizona and his partner Chris Devine was raised in Glendale, Arizona. They met in October of 2001 with a shared connection of books, music and life in general and joined households shortly thereafter in 2002. In 2008, Mason and Chris were married in California but the moment they returned home, their marriage was not recognized by the State of Arizona. While Chris had always wanted to be a parent, it took Mason time to warm up to the idea. In September 2011, Mason and Chris became foster parents licensed by the State of Arizona. Within three hours of their licensing, they received their first placement, a young boy who stayed with them for over two months and was eventually placed with a family member. During their foster parenting classes, the State of Arizona changed the rules for adopting children from foster care. Same sex couples like Mason and Chris were sent to the back of the adoption line and preference was given to opposite sex couples. In spite of the change, Mason and Chris were still hopeful. In November 2011, a young child, Ricky entered their lives and was placed in their care. Ricky's case moved toward adoption quickly. With the State of Arizona's refusal to recognize their valid, legal California marriage, they had to decide which of them would be the legal, adoptive custodial parent. Mason and Chris decided that Mason would be the "parent of record" and adopt Ricky. The legal discrimination the state legislation has enshrined in the laws of Arizona effectively treats the relationship that Chris and Mason have, the family they have built with Ricky, as a second class family. The state has created "enforced instability" on their family, viewing it as less valuable, less permanent and less worthy of protection and recognition. Mason and Chris continue to be foster parents and are finalizing plans to expand their family. For these and other reasons, Mason and Chris readily agreed to join the fight against discrimination, to fight for marriage equality in their home state and overturn the ban on same sex marriage, and to impart equality in the laws of Arizona.
References:
---
---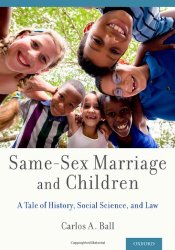 Same-Sex Marriage and Children is the first book to bring together historical, social science, and legal considerations to comprehensively respond to the objections to same-sex marriage that are based on the need to promote so-called "responsible procreation" and child welfare. Carlos A. Ball places the current marriage debates within a broader historical context by exploring how the procreative and child welfare claims used to try to deny same-sex couples the opportunity to marry are similar to earlier arguments used to defend interracial marriage bans, laws prohibiting disabled individuals from marrying, and the differential treatment of children born out of wedlock. Ball also draws a link between welfare reform and same-sex marriage bans by explaining how conservative proponents have defended both based on the need for the government to promote responsible procreation among heterosexuals.
In addition, Ball examines the social science studies relied on by opponents of same-sex marriage and explains in a highly engaging and accessible way why they do not support the contention that biological status and parental gender matter when it comes to parenting. He also explores the relevance of the social science studies on the children of lesbians and gay men to the question of whether same-sex couples have a constitutional right to marry. In doing so, the book looks closely at the gay marriage cases that recently reached the Supreme Court and explains why the constitutionality of same-sex marriage bans cannot be defended on the basis that maintaining marriage as an exclusively heterosexual institution helps to promote the best interests of children. Same-Sex Marriage and Children will help lawyers, law professors, judges, legislators, social and political scientists, historians, and child welfare officials-as well as general readers interested in matters related to marriage and families-understand the empirical and legal issues behind the intersection of same-sex marriage and children's welfare.
---